Search for dogs by their Gender, Color, Behavior, Special Needs, Age, State, Litter or a mix of these.
Bean is a tiny bundle of love. She's happy playing and loves to cuddle and sleep in your lap.
Very shy girl that will need time to be your best friend

Sweet affectionate pup to her people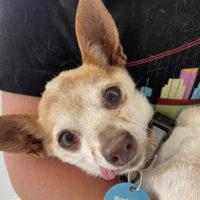 Foster me! Silver Paws eligible

Poppy loves to follow you around with her special stompy walk and tail wagging
Can be a shy boy but will wag his tail to show affection
A sweet quiet soul looking for a home!
Foster me! Silver Paws eligible

sweet old souls looking for their final home
Silver Paws for Love Eligible

Older gal that loves the quiet life